Reading Time:
4
minutes
Before 2017 ended, I promised myself that I will be taking my workouts and lifestyle more seriously. I frequent the gym last year and even enrolled at Pound for Pound for my WODs (workout of the day). Some Circuit, a bit of crossfit, and weightlifting showed results but I am still far from the figure that I was trying to achieve. In December, my friend introduced me to an emerging diet that made her lose weight quickly! The Keto Diet has a growing community in the country. I researched the what and whatnots of the diet and found out that giving up sweets is a huge part of it!
This high fat, moderate protein, and no carb diet is perfect for us Filipinos but finding the food to match this lifestyle is a bit of a challenge. One weekend, I checked the aisles of a supermarket I frequent to to find Keto-friendly snacks. We all crave for sweets and snacks all the time so let me share with you four of my grocery finds!
1. Arce Dairy Lite
One common misconception with this diet is we should deprive ourselves of the good things. Well, partly, yes. No bread, no cake, no rice, and no sugary treats! I am not gonna lie, it was not easy at first! While I was looking for my go-to dessert, Arce Dairy's Avocado ice cream, I saw their sugar-free variant or as they call it, Lite. I nearly jumped for joy because since it is sugar-free, it is Keto-friendly.
I bought a pint of Cappuccino Lite and nearly finished it in one sitting. To much of my curiosity, I reached out to the manufacturers and asked a few questions about the product. According to them, they did not intend to create the variant for Keto dieters but instead for those who are diet conscious and have diabetes. It was just coincidence that it is also Keto-friendly.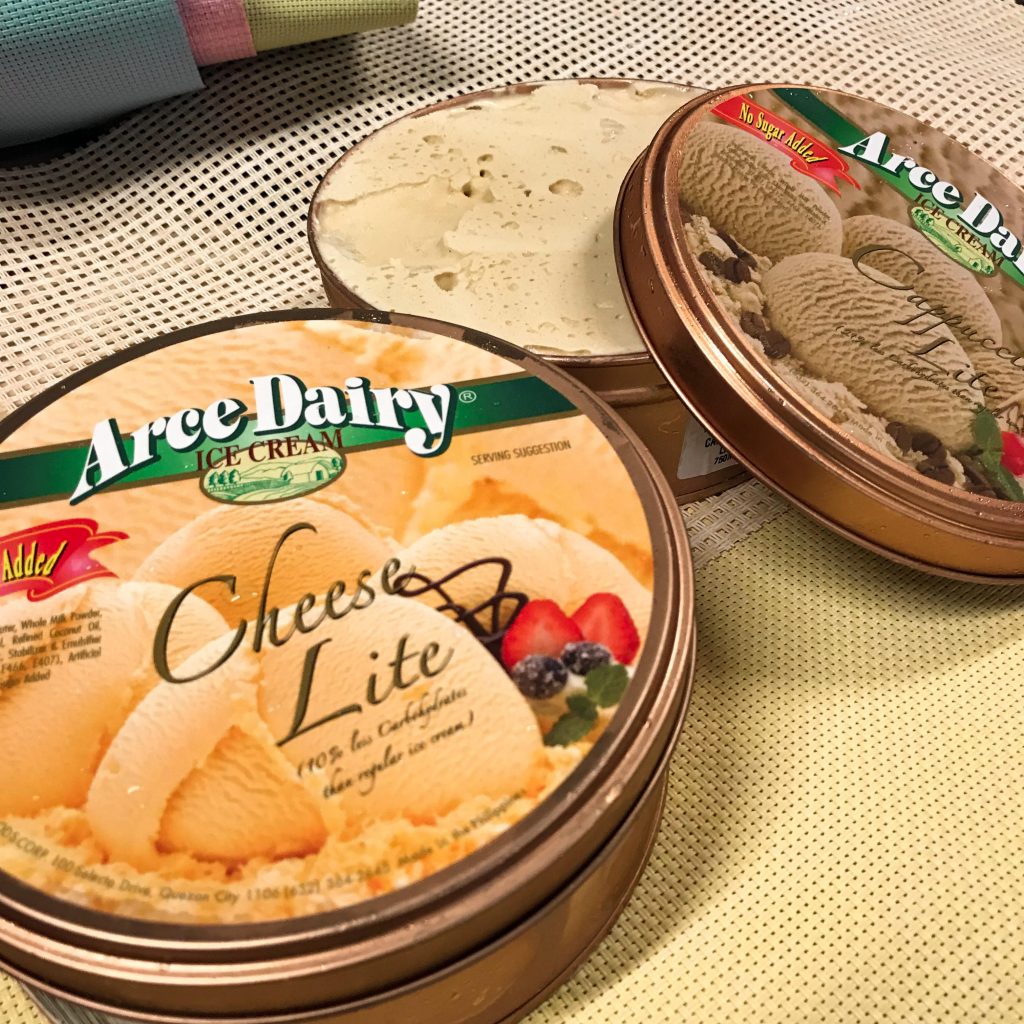 Currently, there are 7 flavors to choose from: Mantecado Lite, Ube Lite, Cappuccino Lite, Vanilla Lite, Cheese Lite, Dark Chocolate Lite & Macapuno Lite. Honestly, I am hoping for an Avocado Lite!
2. Malagos Chocolate
Yes, Bingers. You read that right. Keto-dieters can still enjoy chocolates! Take note, only the dark ones are good for Keto diet. The practice is, the higher the cocoa content, the better it is. There are loads of dark chocolate brands in the market but this find made me a fan.
Meet the Malagos Chocolate. Yes, the Davao-bred brand offers locally-produced and high-quality premium chocolate bars that are perfect for us! I like my chocolate bitter which is why the 85% cocoa variant is my usual but if you want it with a hint of sweetness, you can choose between 65% cocoa and 72% cocoa. I talked to Ms. Jamie Concepcion of Malagos Chocolate, herself, and she says that while their dark chocolate products are sweetened, they also have customers who prefer it unsweetened or in pure 100% cocoa form.
Also, if you need more reason to love this chocolate brand, they have a total of 9 international awards from Great Taste, Academy of Chocolate and International Chocolate Awards. Also, their cacao beans have also been chosen in the TOP 50 BEANS OF THE WORLD just last October 2017. Now, I need a bar!!
3. Oishi's Grab Nuts Almonds
Yup, before you say that almonds are expensive, I will tell you this- they are not! And would you believe me that a pack costs only less than P40? Yes! A pack is good for a serving and that should be enough to keep you full for a few hours. The giant snack company also has a cashew variant but it is not quite Keto-friendly.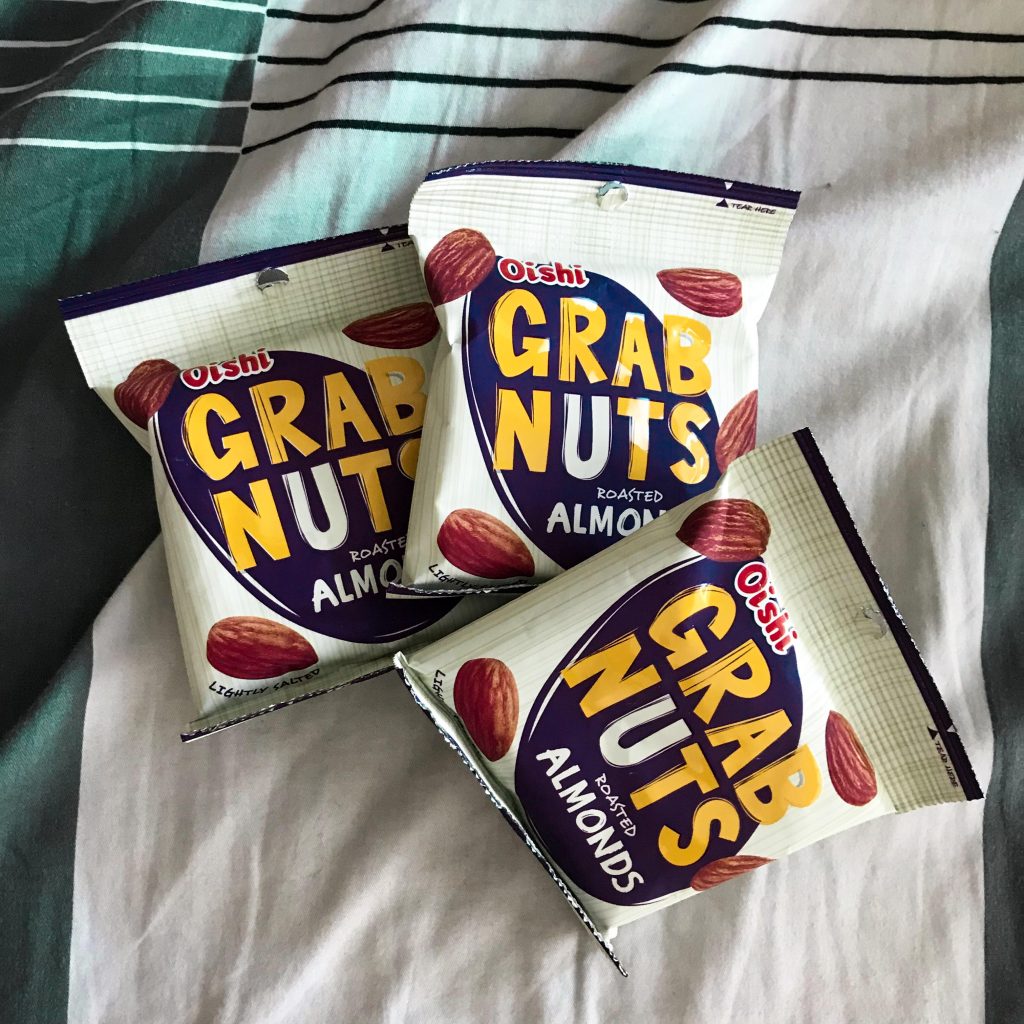 4. Gatorade G Active
First of all, I am not a huge soda and flavored drinks fan but there are times when I get the need for something sweet to quench my thirst. That is when I usually get a can of rootbeer or diet soda. It is no secret that these drinks are loaded with sugar making it our worst enemy. So, where does that leave us, right?
The good news is Gatorade has a flavored drink with no sugar and no calories! Heaven sent! Gatorade G-Active is basically flavored water without the guilt. It is as refreshing as water or any drink. Enjoy it and still remain on ketosis.
See? Following Keto diet should not be complicated! Beginners can start slowly on it by changing their usual unhealthy food with some of these snacks. Of course, it is important to remember that because these foods are good for the Keto diet, it does not mean we should binge on them. Take them moderately and keep track of your macros!
Share your Keto journey with us, Bingers! 🙂
Comments