Reading Time:
4
minutes
For many of us, Boracay is the go-to place for a quick weekend escapade. Personally for me, whenever I crave a change of scenery, I pick between my go-to destinations: Boracay, Baguio, or La Union. Last year, as part of my revenge travel, I've been to Boracay thrice! On one of my visits, I decided to stay at the recently-opened Henann Lagoon in Boracay. Let me share with you my experience at Lagoon and how it compares with the other Henann hotels in Boracay.
Disclaimer: This is a personal review and paid for by me.
Where is Henann Lagoon in Boracay?
Henann Lagoon is the newest Henann hotel in the island. This is one of the reasons I gave it a try. It is strategically-located at Station 2 and easily accessible from the highway. A quick cab ride from the port leads directly to the reception area of the hotel. While I loved this part of the hotel, I am not a fan of its distance from the beach. And here's why.

Living up to its name, Lagoon is a few meters away from the shore. While there is a street outside that heads to the beach, it can be quite a walk. Personally, it was not that much of an issue but that becomes an issue if you are the type to go to the beach, return to your room to get something, then head back to the beach. That part can be quite of a chore! I am like that whenever I am in Boracay. It can also be an issue for traveling families with adults. But if you can easily look past that one minor issue then this hotel is for you.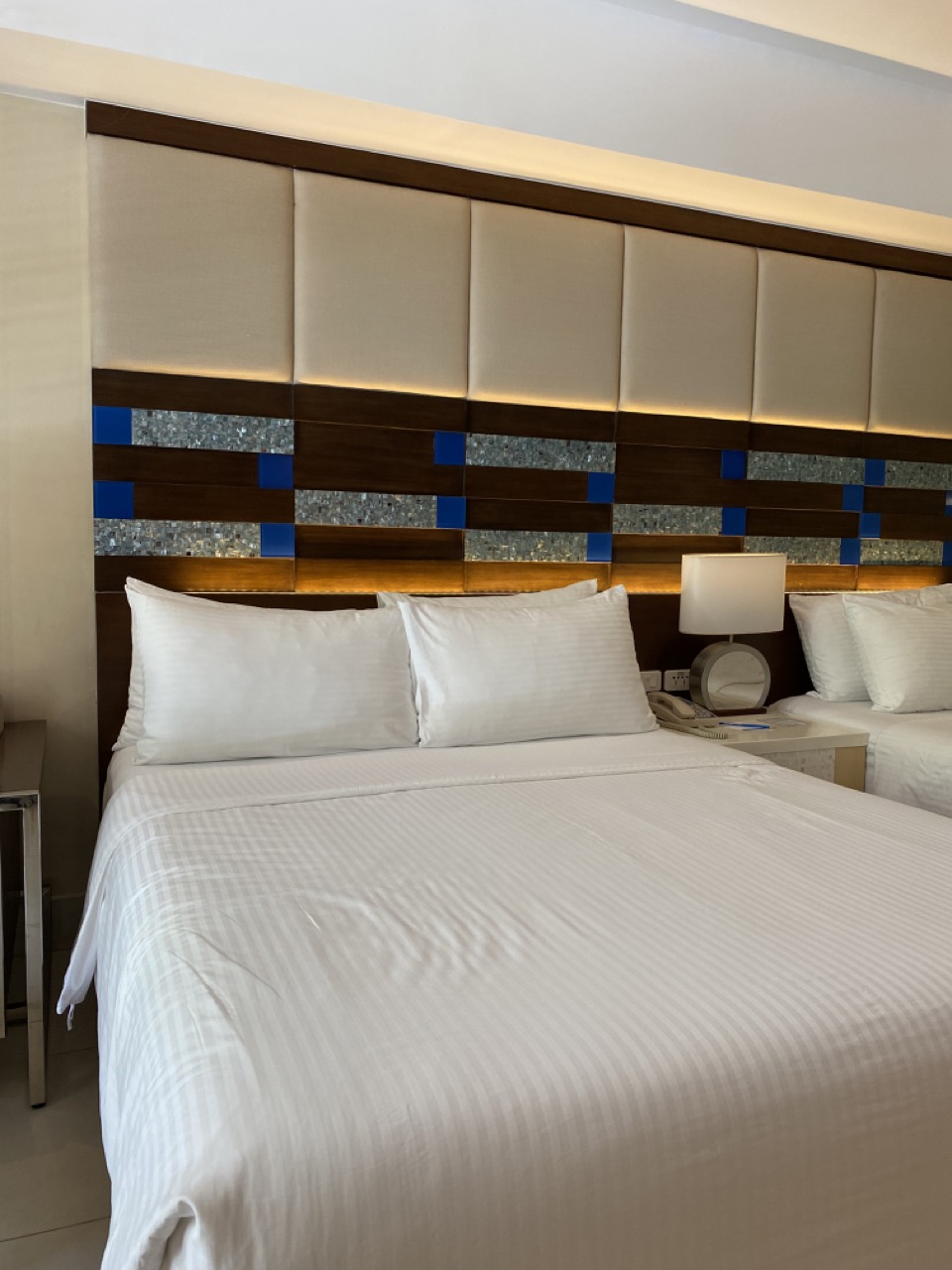 What to Expect in Henann Lagoon?
And now onto the amenities of the hotel! Well, it is pretty much what you would expect in a Henann hotel- you get the nice ambience, the massive pool areas, the beautiful rooms with terrace, and the hearty breakfast buffets for two. On this one particular visit, I shared my room with my cousin.
He is young and just getting started with the whole traveling experience. I asked him for a quick feedback and impression of the hotel and according to him, he loved it!
I get him, what is there not to love in Henann Lagoon. I particularly loved the bathtub which is a staple in most hotels in Boracay but this one is pretty nice. The service is something to commend as well. While the basics are there such as towels for the pool and the beach, the attentiveness of the staff is what I enjoyed. During my stay, I was just walking to the station to borrow a towel and they are already greeting me with a smile from a far ready to hand over the beach towels. These little details are nice to have, if you ask me!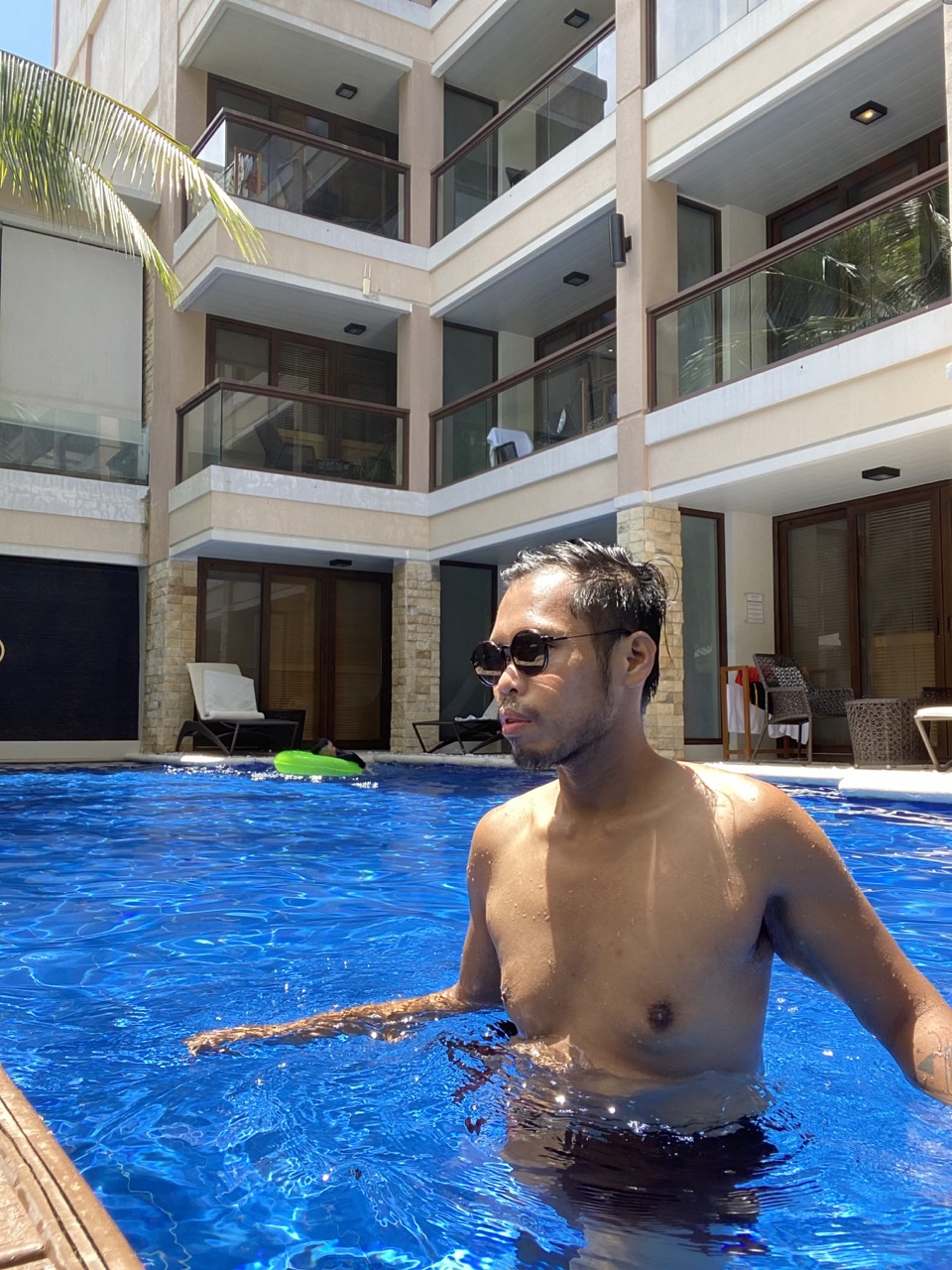 And now let's talk about the meat- the breakfast buffet. I have been to many hotel breakfast buffets. While I am not the big food connoisseur to nitpick on the quality of my food, I can say that I have a pretty picky taste palate (not bragging! lol) On the first morning, I went solo without my cousin because I partied the night before until 4 AM and barely made it for the buffet. Surprisingly, the food never stops. The buffet table was still refilled, as needed. Back then, there were the staples: eggs, tocino, sausages, and BACON!! I see bacon, I am good. I am not hard to satisfy. But then I also noticed they served different types of yummy-looking pastries and desserts so I, of course, helped myself. The drinks were kinda limited, however, with coffee, iced chocolate, fresh milk, and an orange juice. But hey, it was the breakfast, what else would you want?
My 3D2N stay in Henann Lagoon was delightful! The service did not disappoint and I got my money's worth. But the big question is, "am I going to stay there again?" Well, there are two things to consider for me: "would I mind the 5-min walk from the shore?" and "do I want to have the Henann experience but not break the bank?" I guess that would answer it!
So there you have it, Bingers! Enjoy your summer vacation!
Comments