Reading Time:
4
minutes
Each night after work is the best time to relax, be it from school or from work. Personally, I take this time to watch a movie, play a game, or stream a series! Now that Disney+ is in the Philippines, we now have lots of content to choose from and watching them should not be a problem with Globe At Home GFiber. I got the details!
With Disney+ now available to everyone in the Philippines, movie nights and binge-watch sessions have become even more exciting.
The global streaming platform boasts of over 1,800 films and 32,000 episodes including Disney+ Originals from Disney, Pixar, Marvel, Star Wars, National Geographic and Star. With its vast library of movies and shows— including iconic and heartwarming children's classics, thrilling blockbuster hits, compelling documentaries and popular Korean dramas — there is something for everyone on Disney+.
With so much wonderful content to choose from, below is a list of our top recommendations:
Disenchanted
A sequel to the Disney box office hit, Enchanted, Disenchanted revisits Giselle (Amy Adams) more than 10 years after she crossed over from the fairy tale world of Andalasia to the kingdom of New York City, where she met and wed her Prince Charming, Robert (Patrick Dempsey). Growing cynical about life in the city, they move to the sleepy suburban community of Monroeville in search of a more fairy tale life. When things don't go as expected, Giselle turns to magic that accidentally transforms the town into a real-life fairytale gone wrong. Now, she must reverse the spell and realize what happy ever after really means to her and her family before it's too late.
Cars on the Road
Pixar Animation Studios returns to the world of Cars with the all-new original series Cars on the Road. Episodes follow Lighting McQueen (voice of Owen Wilson) and his best friend Mater (voice of Larry the Cable Guy) as they head east from Radiator Springs on a cross-country road trip to meet up with Mater's sister. Along the way, every stop is its own adventure, with outrageous roadside attractions and colorful new characters.
Moon Knight
Marvel Studios' Moon Knight tells the story of Steven Grant (Oscar Isaac), an awkward gift-shop employee who becomes tormented with unexplained blackouts and memories of another life. He discovers he has dissociative identity disorder and shares a body with mercenary Marc Spector. As Steven/Marc's enemies converge upon them, they must navigate their complex identities while being thrust into a deadly mystery among the powerful gods of Egypt.
Andor
Not to be missed if you are a Star Wars fan. The Andor series will explore a new perspective from the Star Wars galaxy, focusing on Cassian Andor's (Diego Luna) journey to discover the difference he can make. The series brings forward the tale of the burgeoning rebellion against the Empire and how people and planets became involved. It's an era filled with danger, deception and intrigue where Cassian will embark on the path that is destined to turn him into a rebel hero.
Cesar Milan: Better Human Better Dog
In this National Geographic docuseries, the leader of the pack is back with another season full of nuggets of wisdom and lessons on how pet parents can create a happy and safe home for their furry buddies. From biters to overprotective and clingy dogs, destructive chewers to territorial pups, Cesar Milan has the tools and methods to help pet owners teach their badly behaved dogs' good habits – all explained in nine intriguing episodes.
Revenge of Others (Star)
Feed your passion for K-drama with this teen revenge thriller series that follows the story of Ok Chan-mi (Shin Ye-Eun), a high school student who tries to uncover the truth about the suspicious death of her twin brother. Along the way, she gets involved with Ji Suheong (Lomon), a student committed to taking revenge on other people's bullies.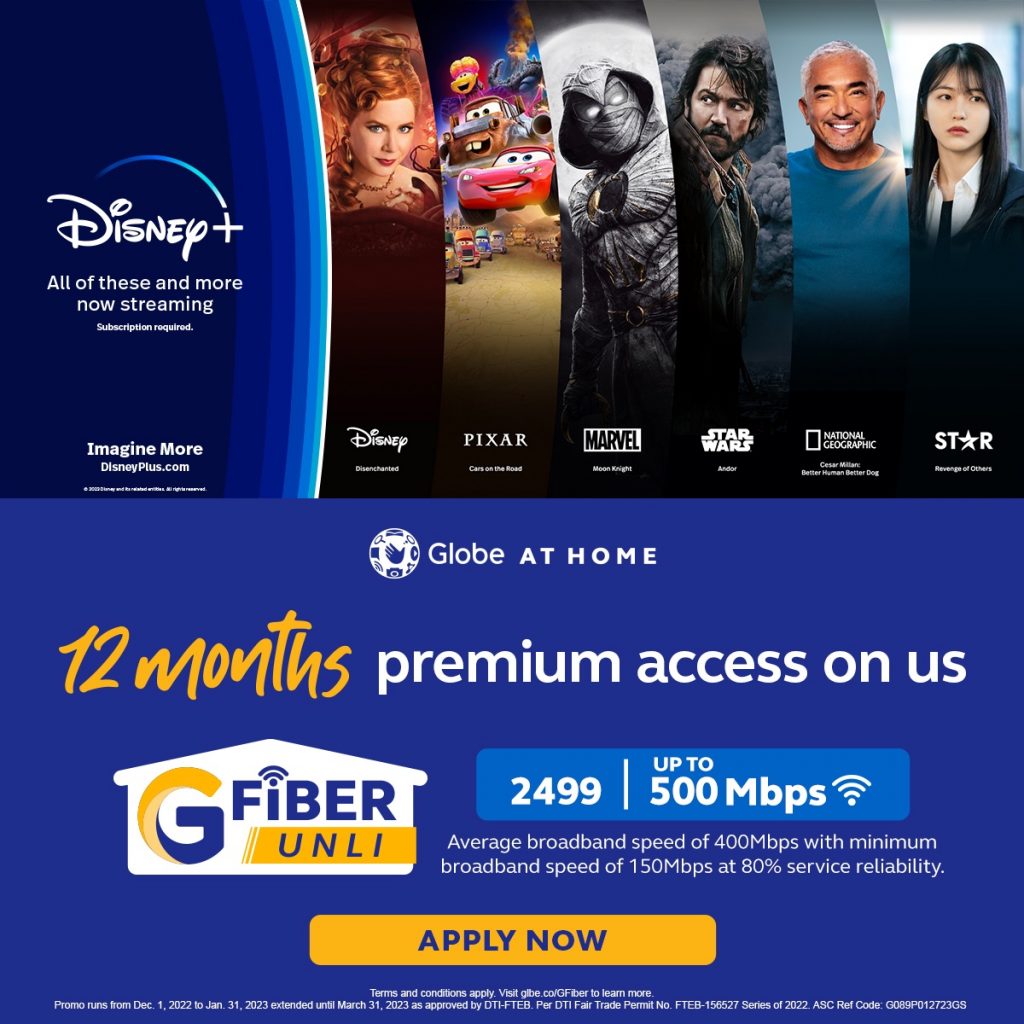 Enjoy the joy and wonder of Disney+ with Globe At Home
You can enjoy all these movies and shows on Disney+ at home with fiber-fast internet offered by Globe At Home GFiber UNLI PLAN 2499.
With this entertainment plan for just P2499 a month, subscribers can enjoy 12-month premium access to Disney+, allowing families to stream up to 4K Ultra HD (2160p) on up to four screens, powered by up to 500Mbps fiber internet speed.
Globe At Home subscribers can enjoy full VIP benefits, with exclusive access to VIP Hotline and Globe Home Squad for world-class network services from Globe's tech experts, including a personalized smart home assessment and configuration.
Aside from Disney+, subscribers also get a three-month subscription to a range of lifestyle and health apps like KonsultaMD, a 24/7 unlimited telehealth membership service.
"We are happy to offer customers the best Globe At Home plan that also allows them to enjoy Disney+ movies and shows on full-fiber and a wide range of other life-enabling products and turn their homes into a wonderful space that brings joy and happiness to every family member all in the comfort of their homes," said Raymond Policarpio, VP for Brand Marketing, Globe Broadband Business Group. Enjoy exciting entertainment with Disney+. Get it first with Globe At Home GFiber. Apply online via glbe.co/GFiber.
Comments