Reading Time:
2
minutes
There are desires that are not best kept.
In the latest film by the award-winning filmmaker Sofia Coppola, she explores the dark side that everybody has and has been trying to conceal. In The Beguiled, women are not as pure as they seem. Sometimes, they can become monsters that can trigger our greatest fears.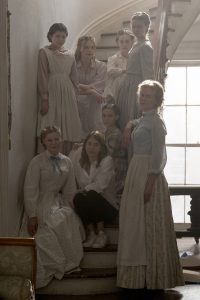 Set three years into the Civil War in Virginia, women take refuge in an all-girls school.
Ms. Martha Farnswood (
Nicole Kidman)
oversees the facility which houses several other women including Edwina Morrow (
Kirsten Dunst)
and Alicia (
Elle Fanning)
.
The Catalyst
Everybody in the house lived
harmoniously
until the introduction of a man.
Corporal John McBurney (
Colin Farrell)
, found wounded in the woods, received rescue from the war at the all-girls school
. His presence brought a series of conflicts at the house. Rivalries for his attention and unnecessary drama turned things around among the girls.
The Beguiled
explored the depths of humanity…or its darkness, thereof. It managed to capture the trauma that one has to endure from war.
Meanwhile, the three main women in the film
comically
reflected the varying levels of their hidden desires
.
Coppola's script and direction brought upon mixed vibes- drama, horror, and comedy. It's amazing how such a simple plot can be complex. It is, at the end of the day, a stark reminder that hell hath no fury like a woman scorned.
Cast: Nicole Kidman, Kirsten Dunst, Colin Farrell, and Elle Fanning
Binge-level: 4 out of 5 stars.
Comments