Reading Time:
3
minutes
We are now in the era of Multiverses. From Doctor Strange: Multiverse of Madness, we now have a film from A24 that takes us to the crazier route of the new genre. Everything Everywhere All At Once is a one hell of a ride and I mean that in a perfectly good way! I wish I could stop raving about this piece of cinema but that's pretty much impossible with how fun and crazy it is! So without further ado, here is my full review of Everything Everywhere All At Once. And yes, it is best seen in cinema!
Last June 27, TBA Studios had me at the special screening of the movie at the Shang Red Carpet Premiere Cinema. Along with the other members of the press, I was among the first to experience The Daniels' film on the big screen in the Philippines. Starring Michelle Yeoh, Jamie Lee Curtis, Ke Huy Quan, and Stephanie Hsu, Everything is a creative play on a mother-daughter relationship tested by culture and growing up.
The Simplicity and Beauty of Everything Everywhere All At Once
On hindsight, the movie follows a really simple plot a daughter trying to let go of her family and culture as she grows and finds herself. It could have easily been a typical mother-daughter movie with some melodramatic take but instead The Daniels burst out their creative juices and added an unexpected take on the narrative. By taking us into a multiversal route, it easily catapulted the movie into a list of must-see pieces of recent cinema.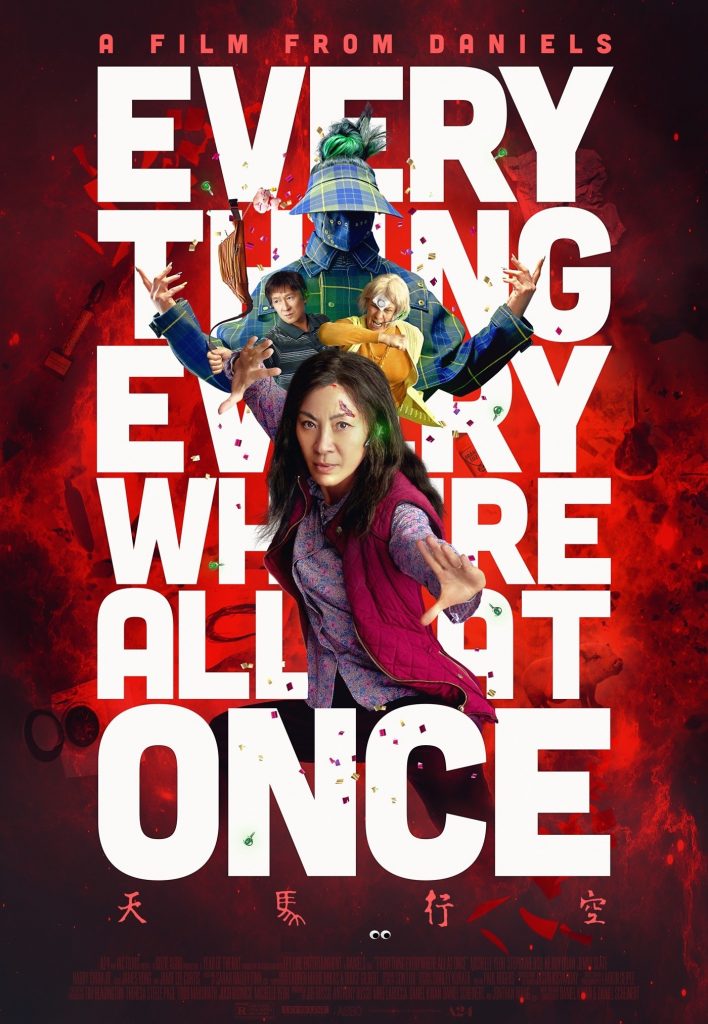 Michelle Yeoh plays Evelyn Wang, an immigrant who owns a laundry shop underneath her family's apartment. Living with her are her husband and daughter, Waymond Wang and Joy. Visiting them for the meantime is her dad, Gong Gong. What should have been a peaceful life is otherwise turned over with pains of having an adolescent daughter and the meticulousness of an IRS auditor fabulously played by Jamie Lee Curtis.
Everything Everywhere All At Once lived up to its name as multiple happened at once right from the start. But then again, that's the concept of multiverse. And if I may say, the film has done a better explanation and exploration of the concept than the recently released comic book movie of the same concept.
Trust the Bagel in Everything Everywhere All At Once
Of course, a movie wouldn't be complete without a villain. And a compelling villain the movie found itself one in the form of Jobu Tupaki. Who is Jobu Tupaki you might ask? Well, for the sake of keeping spoilers out, let's just say that Jobu is an entity who can travel multiverses and be everything and everywhere all at once. And now with an existentialist and partly nihilist mentality, the multiverse is in danger and only Evelyn can put a stop to it.
To be honest, there really is no way of talking about the movie without revealing plot points that can spoil the fun for first time watchers! Again, the movie is best seen in the big screen! The visuals are playful and mind-blowing while the sequences are exciting. Imagine Michelle Yeoh doing martial arts at her prime while following a crazy story.
Everything Everywhere All At Once if you are craving for a great multiverse story. A lot of things may have happened at the same and things did not make sense at the start but it will all pay off in the end. You will leave the cinema feeling elated and, as for me, a different person! Again, I could not stop raving about this movie!
---
Everything Everywhere All At Once is distributed by TBA Studios in the Philippines and is now showing nationwide!
Comments