Over the years, we have seen countless numbers of film tackling youth, adolescence, growing up, and self-discovery. Each of them portrayed the realities of this phase. While some fumbled, there were also few that succeeded in creating beautiful narratives out of it. Luca Guadagnino's Call Me By Your Name is one of those that succeeded.
During the summer of 1983,  Elio (Timothee Chalamet) spends his summer at their family's 17th Century villa in Italy. There he spends his time with his father (Michael Stuhlbarg), an eminent professor specializing in Greco-Roman sculpture, and his mother (Amira Cesar), a translator. His otherwise idle summer took a sharp turn when Oliver (Armie Hammer) arrived in their villa as his father's intern. His presence became the catalyst for a bout of self-discovery and sexual awakening.
Not An Ordinary Summer
Summer is every teenager's dream- freedom from school and having time to play around. Elio looked deeper into his hidden and now growing desires during the summer of 1983. The film based on Andre Aciman's highly-acclaimed novel provided an inclusive and authentic view into the intricacies of a young man's venture into adulthood.
Between playing music, biking along the picturesque Italian countryside, and swimming at the lake, Elio's summer was pretty typical. Chalamet captured the essence of the playful and curious vibe of any boys at Elio's age. Behind this vibrant and playful facade lies a whirlwind of emotions, among of which is one's search for his true identity. Oliver's presence fueled Elio's awakening. Watching their unlikely friendship unfold as the story progresses was sweet.
Sensual with Care
While both of them are charismatic and sophisticated, one is reckless while the other is borderline arrogant. Despite these polarizing traits, they both are constrained from expressing who they really our by the societal norms at the time. This commonality brings them together which incidentally paves way for their relationship to bloom.
Elio and Oliver's friendship grew to becoming an intimate one. This may have become what the audiences are waiting for. Everybody who were rooting for the two guys to finally be intimate were rewarded. Guadagnino delivered them and handled the scenes with such intimacy and caress. It gives and it cuts abruptly. At some point, it was as if the viewers were living as Elio.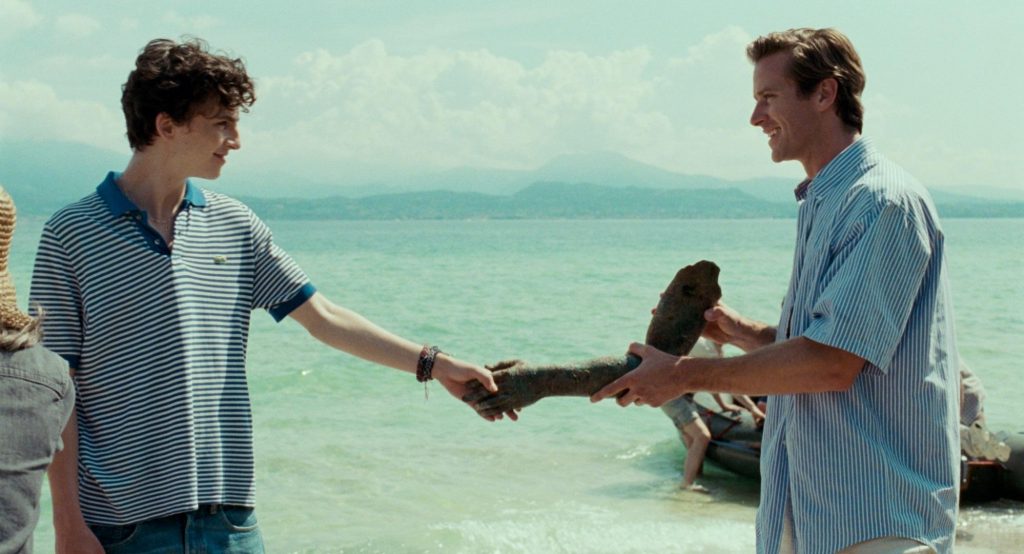 Call Me By Your Name is not your run-of-the-mill LGBT-centered film with an adolescent narrative. It tackles the self-discovery and sexual awareness of a young boy with such finesse. Critics and fans lauded the novel for its true and emotional impact and screenwriter James Ivory translated it well for the film. The picturesque landscape emphasized the beauty of the narrative. Call Me By Your Name is more than just about the joys and pains of first love. It is a beautiful tale of self-discovery.
Director: Luca Guadagnino
Cast: Timothee Chalamet, Armie Hammer, Michael Stuhlbarg
Binge-level: 4 out of 5 stars
Comments